Meet Brian Mahany
Brian Mahany is an award-winning whistleblower lawyer, MENSA lecturer, 2-time legal author and founder of America's leading national qui tam and class action law firm - Mahany Law Partners, boasting more than $17 billion in court verdicts and settlements.
Lawyer Mahany's journey from New Orleans police officer to United States' Largest Single-Defendant Settlement in History billion dollar record holder and multi hundred million dollar courtroom wins, reads like the hero's journey of a John Grisham legal thriller protagonist.
Brian champions the rights of those for whom justice stalls, fails, or seems out of reach. Whether exposing billion dollar frauds against the government on behalf of whistleblower claimants, holding accountable evildoers hiding behind faceless corporations, or recovering money from offshore schemers, this lawyer's common theme is justice by financial recovery in difficult, high-stakes situations.
Equal parts eloquent advocate, diplomat, and when called for boardroom or courtroom brawler, Brian is one of an elite handful of whistleblower lawyers who quarterback billion dollar False Claims Act qui tam and SEC cases on behalf of individual claimants seeking million dollar rewards for putting a stop to corporate misconduct.
The Lawyer Evildoers
Hate to See Coming
- IP Magazine
He levels the playing field for people blowing the whistle on corporate fraud and others facing powerful commercial enemies and their legions of lawyers.
His book Saints, Sinners & Heroes - Covert Ops in the Wars against the C-Suite Mafia (Sutton Hart Press) achieved Amazon Bestseller status within a week of its launch.
Brian Mahany's Due Diligence blog is followed by thousands across three continents. A frequent expert legal and financial commentator for national and international news outlets including The Wall St. Journal, Washington Post, PBS, Financial Times, among others, he is a highly rated speaker on whistleblower cases and financial topics including a recent national MENSA conference keynote.
Brian divides his time between his Texas Hill Country residence, constant New York and Washington DC meetings, and courtrooms across 37 states. Connect with Brian: [hidden email]
The Book
A Guide for Whistleblowers to Stop Fraud and Collect Big Cash Rewards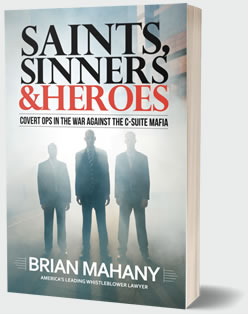 America's most visible and feared whistleblower lawyer Brian Mahany tells readers how he helps everyday heroes work covertly with law enforcement to expose malevolent corporate sinners and pick up multi-million dollar rewards for their effort.
For people whose employer is breaking laws, cheating the government or otherwise committing fraud, in Saints, Sinners & Heroes Mahany simplifies U.S. qui tam laws and demonstrates their effectiveness with shocking case studies including the oncologist who gave healthy patients cancer diagnoses to collect Medicare dollars for treatment, C-Suite bankers who tanked the U.S. financial system and others who cost taxpayers billions while ravaging lives without remorse - until heroic whistleblowers stepped forward.
The defining text of the new era of whistleblowers by America's leading qui tam lawyer and a must read for anyone considering blowing the whistle on fraud. Saints, Sinners and Heroes empowers any of us to take a stand against the greed and avarice of corporations that ignore the laws, cheat U.S. taxpayers, and devastate the livelihoods and lives of our citizens.
Reviews
"Street Tough Lawyer Fighting for the Little Guy" - The Suit Magazine
"If you're happy with the state of the world, content to see large banks and corporations rip off taxpayers and want to pass on the opportunity to receive potentially millions of dollars in bounty money, then, by all means, don't read this book." - Norm Pattis, Bestselling Author of Taking Back the Courts
"A must read for willing whistleblowers, well written and entertaining. If you read John Grisham's The Whistler and were left wondering if his portrayal of whistleblowers was accurate, this book settles the score. Mahany tells it like it is." - Five Star Amazon Review
"It's scary that this stuff is true. Brian is no doubt a modern Don Quixote with deadly aim at the fraudster. That fraudster can be a person, a large bank, an investment company. It does not matter, they do not scare him one bit. In fact I can tell he relishes the challenge - the bigger the Goliath, the greater the fun." - Five Star Kindle Review
"The ultimate whistleblower handbook by one of America's most visible whistleblower attorneys. Everyone who is lucky enough to get ahold of this book will certainly be entranced by its rollercoaster of failure and success, of justice and injustice, of heroes and villains. A must read for anyone interested in understanding the ethical dilemmas of our time." - Whistleblower News Review
"The man who spanked Goliath (Bank of America) for Billions" - IP Magazine